is an independent design and prototype studio based in Santa Ana, California. It was established in 1983 by David J. Stollery. IDR serves a wide range of customers in both automotuive and Product Design. The company includes a full staff of designers, modelers, engineers and fabricators. IDR is proud of its creative, functional designs and efficient, cost effective programs.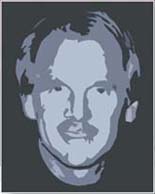 Company founder David Stollery has strong credentials as an Automotive designer. He has worked independently in Italy, as Assistant Studio Chief at Opel under Chuck Jordan, and was in charge of the Chevrolet Advanced 1 Studio. Stollery returned to California to establish Calty, Toyota's California Design Studio. He was director for seven years before returning to Independent Design work and the subsequent creation of IDR.
Mr. Stollery also holds a teaching position at the Art Center College of Design in Pasadena, California.



American Motors, American Sunfoor, Bombardier-Canada, Chrysler Corp., Conner Marine, Deep Ocean Systems, Electric Mobility, Engesa-Brazil, General Motors, Mazda Motors of North America, Newport Research, Renault Automobiles, Scarab Marine, Speed and Marine, State of California, Stephen Spielberg Productions, Subaru of America, Toyota Motor Company, Trihawk Vehicles, Wedgewood Ltd........